The manufacturer of specialty pins, bushings, connectors, fittings, machined nuts, and spacers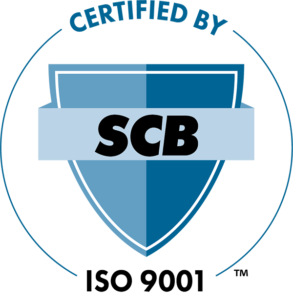 AMMAC, Inc. is an ISO 9001:2015 certified contract manufacturer of U.S.-made screw-machined metal products. Our proficient machinery, workforce, engineering, and internal procedures provide you with superb turned parts at competitive prices while adapting to your requirements.
The organization was founded as a producer of square-head set screws in 1905 under the name W.H. Ottemiller Company. After being purchased in 1983, the company became AMMAC, Inc. The name remained AMMAC, Inc. when current ownership acquired the business in 2003.
Today, AMMAC operates from a 170,000 square foot facility close to major interstates in central Pennsylvania. From sourcing U.S. steel to creating American jobs, we help lead the way for excellence in domestic steel products manufacturing.
Our just-in-time (JIT) services include fabrication, finishing, and heat treatment for metal products including pins, screws, bolts, fittings, spacers, and bosses. We also specialize in EDI processing, bar code labeling, part stamping, painting, and plate service for your screw-machined parts.
AMMAC customers and partners further benefit from our quality control, technical support, and scheduling flexibility.
Our diverse customer base includes industries such as construction, the automotive aftermarket, industrial material handling, and valves and hydraulics. We also reach and serve other markets as a secondary supplier to non-competing job shops.
Parts Manufacturer/Pin Factory for Your Production
Our professionals are ready to serve and solve for your next project. Email your print to info@ammacinc.com or contact us at (717) 767-4448 to get started on prompt turnaround and delivery of your U.S. metal products. We maintain long term relationships with heat treat and plating suppliers helping to maintain on-time delivery. Order processing includes full EDI capabilities integrated with our ERP system allowing for immediate communications and processing.
AMMAC, Inc. Quality Policy
It is AMMAC's goal to provide a product that meets or exceeds the customer's expectations and applicable requirements. Through our ISO 9001:2015 quality management system, we will strive to continually improve customer satisfaction via continuous improvement.
Price competitive based on experienced team members.
Quality of finished parts with inspection process designed to exceed customer requirements.
Delivery is a minimum of 100% on-time all the time.